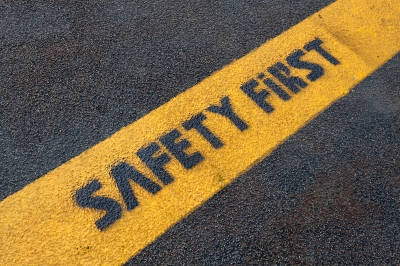 We owe our modern society to construction workers– they were the ones who built buildings and other infrastructures that we all enjoy and made our lives easier. However, this kind of job isn't that easy at all– they are always risking their lives whenever they're on duty.
That's why it's imperative for them to stay alert and vigilant at all times. Likewise, they should also familiarize themselves with the standard practices that would ensure optimum safety while they are on the construction site. Here are the top 10 construction safety tips that every worker should know.
Tip #1: Always Wear Smart PPE Wearables
Project managers should highly encourage their workers to wear proper protective equipment with sensors before they start doing their job. Well-fitted smart helmets and protective eye wear can save lives.
Tip #2: Avoid Overcrowding the Area
As the construction industry begins to embrace IoT technology, this also makes the machinery and equipment "amusing" for onlookers. Ask any machine operator, and he'd tell you that the most significant issues that they have to face when operating the machine are the people standing at the age, watching what they are doing.
This can lead to accidents, and that's why project managers should secure the area, to prevent bystanders from getting close, especially to dangerous machinery.
Tip #3: Practice Safe Traffic Flow
Project managers should ensure that workers and vehicles within the construction site are moving safely. There should also be procedures for when construction equipment must be backed up, and where it could come into contact with the construction workers.
During traffic situations or when there's work in progress, the use of traffic safety cones should be practiced, and to ensure the overall safety of workers, requiring them to wear highly reflective uniforms, especially for those who have to work during the night would help a lot.
Tip #4: Be Careful When Getting On and Off Machinery
At the construction site, one of the most common causes of injury is when workers get on and off the machine or construction vehicles. To prevent this from happening, it's crucial to perform precautionary measures, such as cleaning the mud off before climbing, wearing gloves and belts, and so on.
For machinery, they should be appropriately installed– according to the manual that it came with.
Tip #5: Follow Proper Tie-Down Procedures
At a construction site, there are instances where compression chain binders are used. This can be pretty dangerous if handled improperly. That's why it's imperative to instruct the workers to be cautious when opening the handle.
Keep in mind; there's always the risk that the load would shift, adding tension to the chain. The use of a switch or safety tie wires to ratchet binders can be helpful.
Tip #6: Inspect the Area
One of the most common things used on the construction site is the scaffolds, and these can be pretty dangerous for the workers. Although you cannot entirely avoid the use of one, project managers should prioritize the safety of their workers first and make sure that the scaffold is stable, and not wobbly.
Tip #7: Have a First Aid Kit Handy
There should always be a first aid kit ready for use. The supervisor or project manager should still bring one, and make sure that workers can easily access it in case of an accident. The first aid kit should contain the tools to treat minor burns, cuts, and falls.
Tip #8: Have Proper Fencing
Fencing protection could prevent falls and fatal injuries from happening. That's why this should be installed within the construction site during the construction process. Aside from that, it's equally essential for workers to know the escape and exit routes of the building, as well as the location of a fire extinguisher in case a fire breaks out.
Tip #9: Follow a Fall Protection Criteria
This includes having the proper guardrail height as well as the decent tensile strength. Aside from that, each employee should also be aware of the potential fall hazards within the construction zone, and the employers should be required to follow the fall protection systems at all times.
Tip #10: Practice General Safety Provisions
These provisions should be followed at all times, primarily by the workers to ensure that they stay safe. Wherein, each worker should have a clear understanding of what they should wear, and how they should use the machinery when doing their job.
Author Bio:
Chris provides national brands with freelance copywriting, PPC Management Services, and SEO strategies as a Digital Media Strategy Consultant.  He is also passionate about emerging technologies and traffic safety issues.